Resource Title
Harvest for the Future – board game (youth)
Summary
Experience the lives of farmers in the Global South by playing the development education game Harvest for the Future.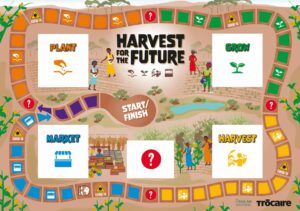 Description
Aim of the game: You are a small farmer in rural Africa. You must purchase, plant, grow,
harvest and sell your crops at the market before the time runs out and the season is over.
You need:
Game board
3–6 players
Crop Cards
Deck of 36 Chance Cards (four sets)
Deck of 48 Question Cards
Dice
Counters (one per player)
Timer