Resource Title
Human Rights Through the Lens: a human rights education resource
Summary
This resource is designed to encourage in-class discussion and reflection on human rights, and how film can be used to communicate and bring them to life.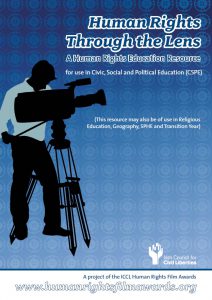 Description
Designed for the CSPE curriculum, the resource is also suitable for Religion, Geography, SPHE and Transition Year. It contains three lesson plans based around three films by award-winning young Irish filmmakers.
Lesson 1:Tomato Soup
Lesson 2: 8 Things to Remember
Lesson 3: Gaza – Post Operation Cast Lead
As well as outlining discussion and classroom activities around the films, it provides suggestions for follow up activities and Action Projects. It also encourages students to take inspiration and make a film on an issue they are passionate about.
This education resource draws on some of the human rights-themed films that made the shortlist of the 2009 and 2010 ICCL Human Rights Film Awards.