Resource Title
I got 99 Problems and Palsy is just one
Summary
Recorded at TEDWomen in California, comedian, writer and actor Maysoon Zayid tells us her story – she's Palestinian, Muslim, female, disabled and from New Jersey and reckons she would win gold if there was an 'oppression Olympics'.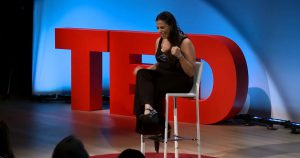 Description
Published on January 3, 2014
"I have cerebral palsy. I shake all the time," Maysoon Zayid announces at the beginning of this exhilarating, hilarious talk. (Really, it's hilarious.) "I'm like Shakira meets Muhammad Ali." With grace and wit, the Arab-American comedian takes us on a whistle-stop tour of her adventures as an actress, stand-up comic, philanthropist and advocate for the disabled.