Resource Title
Income security: Why it matters for older people everywhere
Summary
This booklet aims to raise awareness of income security among older people in Ireland and in developing countries and highlights the importance of social protection systems and increase solidarity for older people living in developing countries.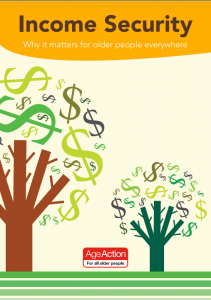 Description
Population ageing is a global phenomenon and is occurring faster in developing countries, which have less time to adjust to the consequences of this demographic transition. By 2050, older people will account for 20% of the population in developing countries, the same ageing demographic currently experienced in developed countries. Some 80% of older people in developing countries have no regular income.
This 10-page booklet summarises some of the issues facing an ageing population in terms of income security and includes case studies from Ireland, South Africa and Zambia; suggestions for further information.