Resource Title
It's a Small World
Summary
'It's a Small World!' is a resource developed for adult basic education. The content gives students an opportunity to improve their reading and writing and, at the same time, learn and think about the developing world.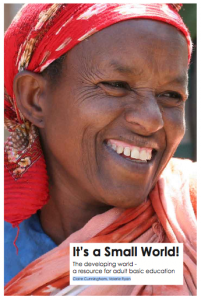 Resource Details
Author:

Claire Cunningham and Valerie Ryan

Publisher:

Rockfinch Ltd.

Country of Publication:

Ireland

Year:

2008

ISBN:

9780956044310

Page Count:

108
Description
This resource provides a support for tutors and students in adult basic education to think and learn about various development issues.
The book explores a wide range of development topics and also includes some activities which focus on particular aspects of language and spelling.
Tutors can pick and choose whatever activities or issues are of interest to students. Development topics explored include: child labour; landmines; hunger; development agencies and fundraising; Fairtrade; HIV and AIDS; climate change; genocide.
It includes lesson plans, case studies, worksheets and background information on a variety of development issues all of which are photocopy-friendly.
Big Ideas
Explores some of the main development issues in an easily accessible and appropriate format for adult basic education
Is informative and challenging
Highly visual with photographs from across cultures
Includes worksheets, case studies, questionnaires
Further reading
The resource outlines where to access further information regarding the various development issues.