Resource Title
JustWorld.ie
Summary
JustWorld.ie is an interactive website which gives students the opportunity to explore topics relating to the developing world, while at the same time practising their language and other skills.
It has been designed for adult students in basic education in Ireland, but may also be useful to other groups both in Ireland and elsewhere.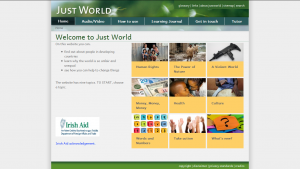 Resource Details
Author:

Valerie Ryan and Claire Cunningham

Publisher:

Rockfinch Ltd.

Country of Publication:

Ireland

Year:

2012

Page Count:

200
Description
Resource Description
The JustWorld.ie website covers nine topics including human rights, health and taking action. It contains a detailed guide as to how to use the site to its full potential and a number of activities also.
The website uses audio clips, image and short film material as well as an embedded learning journal and interactive quiz sheets to guide users through topics and exercises.
Students may work on their own. However, if they are working in a group, there are also suggestions for discussion or for comparing answers and ideas. Tutor support and advice is included.
The aim of the website is to enable people to:
1) Find out more about people in developing countries
2) Learn about inequality in our world
3) See how I can make a difference