Resource Title
Latin America Pack for youth workers and trainers
Summary
An interactive activity pack for trainers focusing on Latin American development issues. The pack contains activities to support the development of four workshops on three development issues: Food, Water and The Coca trail.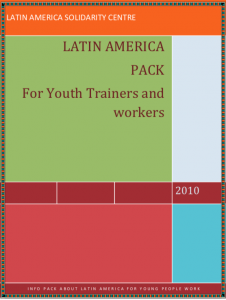 Description
This 33-page information and training pack contains trainer activities for use in workshops with young people that explore development issues on Latin America. Each session can be used as a workshop or individually, and includes the aim of the session, the materials needed and step-by-step activities. There are quizzes with comprehensive answers, factsheets, ideas for debates, additional activity suggestions, role play, ideas for taking action and where to go for further information.
Big Ideas in this Resource
The Coca Trail: traditional uses of the Coca leaf and its link with Cocaine and Ireland
Food: Where our food comes from and what impact it has on people from other countries. Why is there hunger in the world?
Water and the struggle for water
Introduction to Latin America and the main development challenges and the links between Latin America and Ireland.
Suggested Use
As an introduction to development issues in Latin America
As complementary information for workshops / training programmes
For further information: see www.lasc.ie