Resource Title
Life Stories – Exploring Identity with Young People
Summary
Life Stories is an educational activity pack that gives a voice to young people from a diverse range of minority groups in Ireland. The young people's stories form the basis of the pack. These stories are supported by group work, simulation games, drama and art activities, which enable young people to explore identity in Ireland and around the world.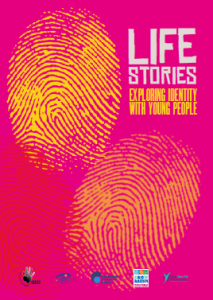 Description
In Life Stories, identity is explored in the context of the individual characteristics, beliefs and interests of young people and in terms of the groups to which they belong. The stories and activities in this pack highlight that identity is not fixed and that people's identities may change according to their needs at a particular moment.
The pack is divided into four sections. The first three sections contain young people's stories and activities for exploring identity and minority issues with young people, while the fourth section seeks to support the practitioner. Did You Know? boxes in the first three sections focus on global aspects of minority identity
A number of actions are suggested for young people to raise awareness – among their peers, families, organisations, the wider public and key decision makers – of the important role that perceptions of identity can play in limiting or enhancing the choices of young people in Ireland and globally. Guidelines are suggested for youth work practitioners to support their work with young people from minority groups, either within existing youth work provision or as part of a dedicated programme.
Big Ideas in this Resource
What young people have in common is as important as what differentiates them.
Identity is not neutral. The concept can be interpreted differently and has both positive and negative dimensions. In Ireland and throughout the world group identity can create a welcome sense of belonging or solidarity. However, divisions based on group identity have also led to polarisation, stigmatisation and the abuse of human rights.
The storytellers in this resource are individuals and the stories examine the relative importance that the young people give to their minority identity compared to other identities they hold
Young people can and should take action to challenge injustice/discrimination at a local and global level