Resource Title
Nature Conservation Foundation – India
Summary
The Nature Conservation Foundation seeks to contribute to the knowledge and conservation of India's unique wildlife heritage with innovative research and imaginative solutions. The Foundation works in a range of wildlife habitats—from coral reefs and tropical rainforests to the high mountains of the Himalaya.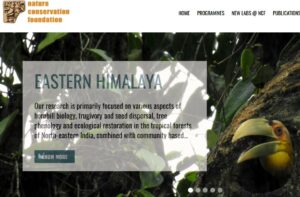 Description
The Foundation seeks to explore, understand and conserve the natural world through research and responsible engagement with society.
Through its website Nature Conservation Foundation shares teaching resources, community practice guides and onward learning opportunities and stories to bring India's natural heritage to a global audience.
Available from:
Explore the Foundation's education and public engagement programme and digital partnerships programme to bring India's natural heritage to a global audience.
Explore the Foundation's resources library for various publications, including:
The handbook for nature guides (Payal Mehta and Harsha Jayaramaiah share basic guiding techniques and ethics in tourism that are essential for all good and responsible nature guides)
Partners Guide for Trainers – a train the trainers guide ways to work with communities to develop long-term conservation solutions based on 'The PARTNERS Principles for Community Based Conservation'
Last Ones Standing – Features 11 threatened tree species found in the tropical rainforests of the Western Ghats. (Filled with observations, known facts and attractive illustrations, this booklet aims to increase knowledge and awareness of these rare and remarkable trees).