Resource Title
Not Business as Usual: Exploring Global Justice in the Business Studies Curriculum (Junior Cycle)
Summary
Not Business as Usual is designed to support Junior Cycle Business Studies teachers in exploring global justice topics using active learning methodologies. It provides clear guidance on how to incorporate financial justice themes into all three strands of the curriculum – Personal Finance, Enterprise and Our Economy.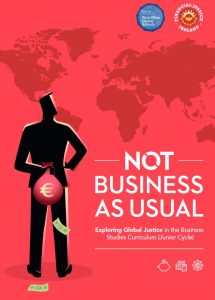 Description
The resource aims to:
Explore responsible and ethical consumer behaviour
Learn and engage with and from sustainable business ideas
Examine tax and debt as global justice issues
Explore the linkages between economic systems, the environment and equality.
This resource explores a number of key issues: the global debt crisis, why is Ireland in so much debt, climate change insurance, consumer spending (consumption), tax havens and the conduct of multinational companies, and uses active learning and a multiplicity of hands-on games, factsheets and exercises.
A number of country-based case studies are explored from: Ireland, Mozambique, Nigeria and South Sudan.
Not Business As Usual integrates learning outcome linked to each of the three Business Studies strands of learning with suggestions for classroom based assessments:
Strand 1 Personal Finance: LOs 1.1, 1.2, 1.3, 1.4, 1.6, 1.9, 1.10
Strand 2 Enterprise:  LOs 2.3, 2.4, 2.5, 2.11
Strand 3 Our Economy: 3.5, 3.6, 3.7, 3.9
This resource also links to the Sustainable Development Goals, specifically:
Goal 9: Build resilient infrastructure, promote inclusive and sustainable industrialization and foster innovation
Goal 8: Promote sustained, inclusive and sustainable economic growth, full and productive employment and decent work for all
Goal 10: Reduce inequality within and among countries
Goal 12: Ensure sustainable consumption and production patterns
Goal 13: Take urgent action to combat climate change and its impacts
Goal 17: Partnerships for the Goals