Resource Title
Occupation and Resistance in the West Bank, Palestine: A Report on a Visit to the West Bank.
Summary
A research report by Stephen McCloskey of the Centre for Global Education to the Palestinian West Bank in September 2016 to assess the situation on the ground following a worrying contagion of the conflict since October 2015.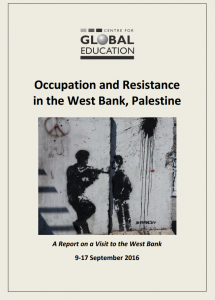 Description
The report gives a brief situation analysis of the situation on the Palestinian West Bank as observed by a delegation of Irish activists who visited the West Bank in 2015.