Resource Title
Peace and Justice: It's up to YOUth
Summary
This resource is about hope. In focusing on Peace and the Sustainable Development Goals  – Goal 16 – this resource sets out to provide opportunities for young people (and those who work with young people) to engage more on key issues of our time, to reflect upon root causes and consequences, and to clear a path for this generation to lay foundations for present and future pathways to peace, justice, equality and human rights.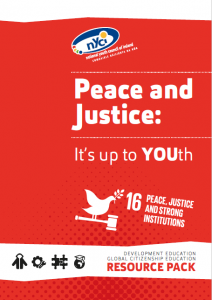 Description
This resource contains:
An introduction to One World Week
An introduction to the Sustainable Development Goals
A guide on how to use the resource
A separate section focusing on peace, justice and strong institutions individually with 4 activities for stimulation, discussion and exploration in each section, as well as a specific one on taking action
Produced as part of One World Week – a concentrated week of educational activities in the youth sector around a week of youth-led awareness raising, education and action that takes place throughout Ireland during the third week of November every year.