Resource Title
Peace together: Embracing Diversity in Co. Monaghan Schools
Summary
A Transition Year resource with a focus on identity and diversity, on stereotyping and discrimination, migration and sectarianism.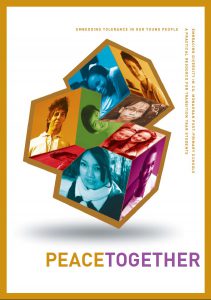 Resource Details
Author:

Antointte Byrne, Hugo Clerkin, Claire Cosgrove, Eoghan Cunningham, Emily Fleming, Eunice Hall, Eimear Harvey, Linda Kilfeather, Connolly, Anne Lillis, Nicola McGee, Rosaleen McSkean, Sarah O'Hara and Emer FitzPatrick

Publisher:

Monaghan Education Centre

Country of Publication:

Ireland

Year:

2011

Page Count:

104
Description
The resource is divided into 8 units focusing on Diversity and Me, Understanding myself, Getting to know Our Community, A Sense of Belonging, Looking at Migration, Peace-ing it all together and Action Research.
This resource is detailed and easy to use; strong activities base, worksheets, onward links, teacher discussion points and research suggestions.
Some of the features of this resource include:
exploring attitudes around symbols and labels
self assessment activities on attidudes toward communities
investigating cultures in Monaghan
analysing conflict, the opinions of minorities and examining the past
a glossary of useful terms
Available from:
Download Peace Together PDF (8.00MB)
More information on the Monaghan Education Centre and queries on ordering a CD-Rom version of Peace Together https://www.metc.ie