Resource Title
SDG 1. No Poverty #SDGchallenge Info Pack
Summary
Concise digital 'information pack' that drives starter ideas for everyone to explore key issues and ideas behind each of the Sustainable Development Goals.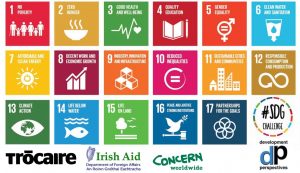 Description
This info pack explores the topic of SDG 1 No Poverty, and includes:
Easy-read introductory exploration of ideas and realities behind 'poverty'
A 4-step approach – Explore the Goal; Understand; Act; Share
5 personal challenges for participants to work on.
Info packs are updated monthly based on the workshops schedule and activity of monthly #SDGchallenge initiative workshops. Workshop themes rotate once-per month based on each Goal.
What is the #SDGchallenge?
The #SDGchallenge is a development education project which aims to equip individuals with the knowledge, skills and motivation to take informed action to contribute towards the achievement of the Sustainable Development Goals (SDGs). The #SDGchallenge is led by Irish NGO Development Perspectives.
The SDGchallenge focuses on the non-formal learning sector, with many entry points in order to ensure easy and diverse levels of participation.
Available from:
Explore the Info Packs index page for the most up to date version.  (Last update: May 18, 2018)