Resource Title
Solidarity in Action 2021 – A Journey in Global Citizenship Education
Summary
This publication captures and shares some of the unique learning and impact for participants in the Solidarity in Action course. Indeed, it is hoped that it might provide some new impulses for those engaged in activism and for those interested in Global Citizenship Education (GCE) and transformative learning spaces.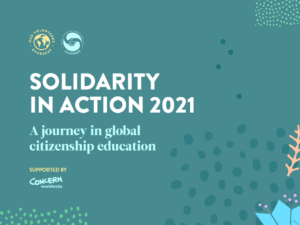 Resource Details
Author:

Sive Breslin, Zoe Liston, Giulia Presa Perez, Robert Johnson, Jess Walsh, Niamh Flynn, Róisín O'Donnell, Sanghamitra Chattopadhyay Mukherjee, Seánagh Fitzpatrick, Thomas Craddock, Tracey O'Connor, Julia HAimlinger

Country of Publication:

Ireland

Year:

2021

Page Count:

34
Description
Following completion of the Solidarity in Action 2021 course, participants were invited to submit reflections, learning and impact, culminating in the creation of this resource. Participants reflect on their overall journey, themes, personal moments of reflection, their own actions and where they might go from here.
Participants submitted their reflections in many forms, including essays, poetry, art, photos etc.
The reflections in this publication touch on the value of stories; the generative power of vulnerability; what it means to examine where we are located within matrices of power; curiosity; the collective; connection with human and other-than-human worlds and the importance of relationships. 'Solidarity' was the anchor theme of this course and was embodied in the group's engagement with each other and their communities.