Resource Title
State of the world population report 2011: People and Possibilities in a World of 7 Billion People
Summary
This report looks at the dynamics behind the numbers. It explains the trends that are defining our world of 7 billion and documents actions that people in vastly different countries and circumstances are taking in their own communities to make the most of their–and our–world.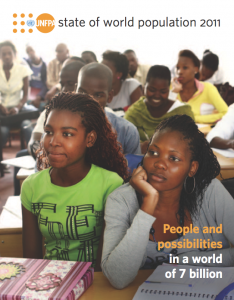 Description
From 31st October 2011, it is claimed that seven billion people are inhabiting the earth. The  report uniquely looks at the trends—the dynamics—that are defining our world and shows what people in vastly different countries and circumstances are doing in their own communities to make the most of their world.
This report provides a snapshot of how China, Egypt, Ethiopia, Finland, India, Mexico, Mozambique, Nigeria, and the former Yugoslav Republic of Macedonia are facing diverse demographic challenges, ranging from ageing populations to high fertility rates, and from urbanization to the emergence of new generations of young people.
Divided into 8 chapters, the report takes a closer look at the causes and consequences of living in a world of 7 billion people – and focuses on active solutions for challenging entrenched inequalities within and between countries. Examples of these include the importance of young people as 'a new global power' in reshaping the world (birth rates and labour force potential), security, economic strength and independence in old age, fertility (reproductive health and rights) and the power and impact of migration.
The rise of huge metropolitan population areas is also explored in planning for the growth of cities as well as learning gathered from planning mistakes already made– comparisons are drawn on how planners and politicians work in three sample countries: India, Nigeria and Mexico. At the core of the report, and explored in detail in chapter 7, is the challenge (and the experiences) of sharing and sustaining the earth's resources.
Demographic, social and economic indicators as well as a range of accessible case studies, stories, graphs and tables are presented in the report.
Big Ideas in this Resource
With planning and the right investments in people now—to empower them to make choices that are not only good for themselves but for our global commons—our world of 7 billion can have thriving, sustainable cities, productive labour forces that can fuel economic growth, youth populations that contribute to the well-being of economies and societies, and a generation of older people who are healthy and actively engaged in the social and economic affairs of their communities.
Seven opportunities for a World of 7 Billion
Reducing poverty and inequality can slow population growth.
Unleashing the power of women and girls can accelerate progress on all fronts.
Energetic and open to new technologies, young people can transform global politics and culture.
Ensuring that every child is wanted and every safe childbirth can lead to smaller and stronger families.  [Not sure I understand what this means?]
Each of us depends on a healthy planet, so we must all help to protect the environment.
Promoting the health and productivity of the world's older people can mitigate the challenges faced by ageing societies.
The next 2 billion people will live in cities, so we must plan for them now
Further reading: interactive online material, featured resources and additional resources available at the UNPFA website https://www.unfpa.org/public/op/preview/home/sitemap/swp2011