Resource Title
Sustainable Living Programme
Summary
A programme developed by the Union of Presentation Sisters that focuses on sustainable living and how we can respond to the challenges.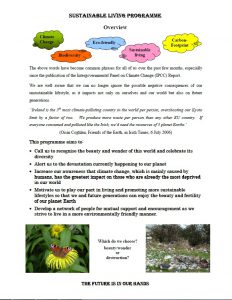 Resource Details
Author:

Paula Buckley, Imelda Carew, Ciss Geoghegan, Emer Madigan, Howard Marshall, Maureen O'Connell

Publisher:

Union of Presentation Sisters

Country of Publication:

Ireland

Year:

2009

Page Count:

35
Description
A user-friendly programme that is suggested to run over a nine-month period. The programme incorporates information/action information and actions on the sectors of sustainable living including: energy, water, purchasing, transport, organic produce, green cleaning and waste. Each section contains information and suggestions for action. At the end of the resource are suggested sites, books, periodicals, DVDs and CDs for further learning and exploration of the issues.
Also included is a section on sustainable fisheries: fish facts, a 'good fish guide' for choosing sustainable fish for cooking, a list of 'red fish' that are facing extinction.
This programme aims to:
Call us to recognise the beauty and wonder of this world and celebrate it diversity
Alert us to the devastation currently happening to our planet
Increase our awareness that climate change, which is mainly caused by humans, has the greatest impact on those who are already the most deprived in our world
Motivate us to play our part in living and promoting more sustainable lifestyles so that we and future generations can enjoy the beauty and fertility of our planet Earth
Develop a network of people for mutual support and encouragement as we strive to live in a more environmentally friendly manner.