Resource Title
The Sustainable Development Goals and YOUth
Summary
This resource introduces the 17 sustainable development goals through a range of active learning activies for youth groups or as extra-curricular work. The background and context of the goals are clearly explained and brought to life with graphics. This pack also facilitates action and finding out more information.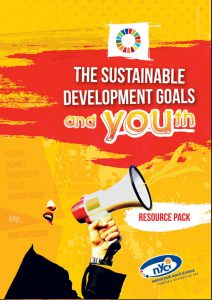 Description
"This resource encourages young people and those who work with young people to learn about the new Sustainable Development Goals (SDGs) and think about how these Goals can be incorporated into our everyday lives."
This pack begins by explaining the Millennium Development Goals as context for the Sustainable development goals. The Sustainable Development Goals are then introduced clearly and suitably for young people.
There are eleven activities covering aspects of the SDGs such as finance, gender and climate change.
Includes a useful 'How to use this pack' introductory page for session leaders
Each activity has an age recommendations ranging from 6-13+ however most activities would be suitable for teenagers also
This resource is colourful, engaging and extremely useful to any young person, youth worker or teacher exploring the Sustainable Development Goals