Resource Title
Thin Black Lines RIDES AGAIN – political cartoons and development education
Summary
Political cartoons often present complex and challenging ideas about important world issues in an accessible way.  Thin Black Lines was published to encourage the use of such cartoons in education.  The success of this and the wide use of the cartoon collections prompted the development of Thin Black Lines RIDES AGAIN.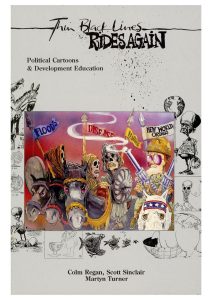 Description
Thin Black Lines RIDES AGAIN: political cartoons and development education is follow up to the first edition, Thin Black Lines published in 1988.
The book has collections on four central themes:
The shape of the world
Human Rights; Environment
The end of an era.
The introduction features the words and works of Ollie Harrington who was an extraordinary cartoonist.
The last section relates to what at the time was described as "the new world order".
Activities are suggested, building on those in the first book, to make good use of cartoons as a learning stimulus. Questions are also offered to help focus discussion.
This edition was produced in partnership with Cartoonists and Writers Syndicate, New York.