Resource Title
Tight Spaces: An Educational Resource on the Direct Provision System created by young people for young people
Summary
'Tight Spaces' gives insight into the treacherous journeys of these resilient young people in search of safety and their experiences in Ireland's international protection system.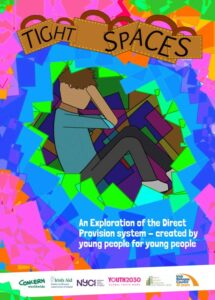 Resource Details
Author:

Aalba Mathew, Alona Lavrinovica, Abdulai Mansaray, Blessing Bolatumba, Diane Iroulor, Dumebi Asiegbu, Enzo Enaiho, Jamila Salif, Julia Szakacs, Marwa Zamir, Meena Zamir, Michael Awoyemi, Morgan Hansen, Nike Awoyemi, Princess Mimi Chukwudi, Sirine Nemsi, Success Irorere, Timileyon Oshiyokun, Tobi Oshiyokun with Cristina Iancu and Natasha Muldoon

Publishers:

ARD Family Resource Centre, Irish Refugee Council, National Youth Council of Ireland (NYCI)

Country of Publication:

Ireland

Year:

2023

Page Count:

32
Description
This resource aims to raise awareness of Ireland's Direct Provision system and intends to bridge the gap in knowledge for young people in Ireland on this topic. It
has been created for use in schools and youth groups.
encourages readers to connect with the topic of Direct Provision, explore it critically, and work towards taking action to build solidarity and create change.
addresses topics such as 'why do people flee their countries of origin?', living conditions in direct provision, social exclusion, well-being, asylum seeking and mental health
makes use of videos (such as the RTÉ documentary Growing Up in Direct Provision), role-play scenarios and illustrated artwork by young people.
includes activities sheets, facilitator instructions
The resource states:
"They (young people) spoke about how a person may often need to embark on a dangerous and harrowing journey to reach a safe place. This journey may involve a multitude of 'Tight Spaces' – packing belongings into a bag, a boat, lorry, sleeping bags."

"Then when a person arrives into Direct Provision they may, unfortunately, find themselves within a tight space of cramped living conditions," adding, "Due to the injustices embedded within this system, 'Tight Spaces' also represents the mental anguish that may be experienced, feelings of an individual's world being shrunk, horizons being reduced, a lack of freedom and agency, and restricted opportunities."
The resource highlights the challenges of Ireland's Direct Provision system through the eyes of young people; including crowding which takes away their privacy and sense of safety, lack of culturally appropriate food, inability to meet basic needs from the inadequate state welfare payments, limited access to education and employment opportunities as well as social isolation in instances where centres are situated in remote areas.