Resource Title
Trócaire in Action: Unit 4 from the Faith in Action series
Summary
This is unit 4 of a 4-part interactive whiteboard resource suitable for general religious education (RE) at senior secondary school. It includes an additional presentation that explores how Trócaire, as the official overseas development agency of the Catholic Church in Ireland puts its faith into action.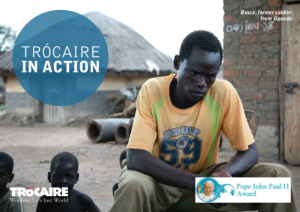 Description
Faith in Action Series
This educational resource has been designed for use on interactive whiteboards. Each unit contains supplementary notes for teachers, packed full of background information and group activity ideas.
The 'Faith in Action' resource contains four weeks of engaging lesson material for the Pope John Paul II Award. Students are then encouraged to spend another four weeks carrying out action projects within their communities. (The resource can be adapted to fit a longer or shorter timeframe.)
Unit 4: Trócaire in Action
At the end of this unit students will have explored the history and work of Trócaire, both in Ireland and abroad. Trócaire's mission as an organisation that puts it's faith into practice by assisting the global poor.
This whiteboard resource is further accompanied by teacher notes and student worksheets.
Further reading
Links to the remaining Faith in Action units: