Resource Title
Understanding the Sustainable Development Goals. A Workbook for Further Education Institutions
Summary
This Sustainable Development Goals (SDG) workbook has been developed and produced specifically for the use of Further Education tutors. Through their partnerships, practitioners have requested that Development Perspectives develop a workbook with sessions on the SDGs specifically  for adults in formal and non-formal learning contexts including groups in the community sector. This is an easy to use workbook with sessions for each of the 17 SDGs that could be delivered individually based on the interest of the adults and communities involved in each session.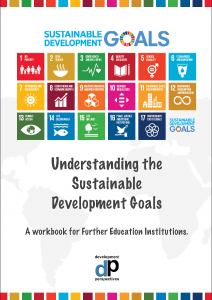 Description
The workbook contains:
SDG Introductory session
The SDG introductory sessions supports learners to explore the SDGs generally, i.e. what they are, where they came from and what relation they have to our lives. This core session lays the groundwork and basis to support learners to understand and reflect on the purpose, principles and beliefs underlying individual SDGs. In which case it would be important to begin any exploration of the SDGs with this core session.
Individual SDG sessions
There is a specific session in the workbook for each of the 17 SDGs with relevant activities, reflection questions, examples of challenges/action and further information references. You can choose one SDG and deliver a one-off session or look at a number of SDGs over a period of time depending on your work context. In order to understand relevance, interest 'buy in', the SDG identified must be prioritised by the group and reflect issues of concern within their lives/community or relate to the subject matter of a specific topic/issue.