Resource Title
Water and Development: an essential guide
Summary
"Water is vital. We use it every day, and we use more of it than we realise. And most of the time, we take water for granted."
This 16-page, colourful resource explores the issues as they relate to global water and development from a Progressio perspective.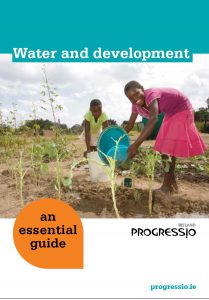 Description
Arranged into five themes, the guide demonstrates the importance of water in communities around the world.
Sharing case studies from individuals in communities where Progressio work, the issues explored include:
Water for life;
Water food and farming;
Water and climate change;
Water and women;
Water and business;
Water and governance.
The guide is supported by strong photographs and a range of pop-out statistics for general readers.