Resource Title
Water Splash: an early years education pack about water
Summary
Water Splash is an early-years education 16 page pack features colourful posters and lively activities on water issues around the world.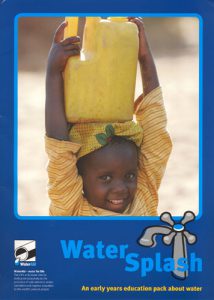 Description
Water Splash was designed to support young children to explore the role that water plays in their lives, the availability of water to children in parts of the developing world, and the responses they can make in relation to responsible water use.
Each poster in the booklet can be used as a stand-alone resource, or the whole pack can be used as a linked series. It includes background and reference information for practitioners, activity suggestions, story ideas and where to go for further information.
The resource is split into 4 sections: The water cycle, Water conservation, Water safety and Water in other countries.
Further reading: See also the WaterAid website for water activities and games