Resource Title
Women, Business and the Law 2014: Removing Restrictions to Enhance Gender Equality
Summary
Women, Business and the Law 2014 is a global survey to examine laws and regulations affecting women's prospects as entrepreneurs and employees.
The report's quantitative indicators are intended to inform policy discussions on how to remove legal restrictions on women and promote research on how to improve women's economic inclusion.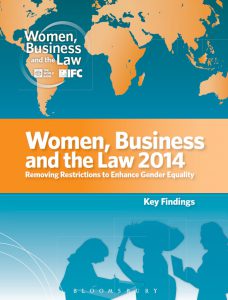 Resource Details
Author:

The World Bank

Country of Publication:

United Kingdom (UK)

Year:

2013

ISBN:

97814729-06434

Page Count:

20
Description
"In the past 50 years women's legal status has improved all over the world. But many laws still make it difficult for women to fully participate in economic life whether by getting jobs or starting businesses.

Discriminatory rules bar women from certain jobs, restrict access to capital for women-owned firms and limit women's capacity to make legal decisions. Gender differences in laws affect both developing and developed economies, and women in all regions."
The key findings of this report are illustrated with a range of useful charts, tables and graphics which together present a set of crucial visuals on this global survey of women's economic rights and legal obstables to gender equality.