Resource Title
Young Environmentalist Awards Programme Manual: How to Carry Out an Environmental Action Project for Young People & Their Project Mentors
Summary
This Young Environmentalist Award programmemanual is designed to empower young people (aged 10-18) by providing guidelines and tools to think critically about various environmental and sustainable development issues, and to develop and carry out their own environmental action projects.
ECO-UNESCO's Young Environmentalist Awards (YEA) programme is a unique initiative that promotes environmental protection, active citizenship, positive behaviour change and the personal development of young people.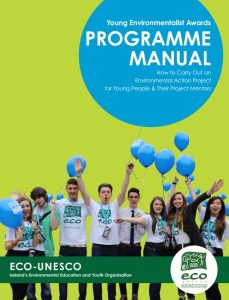 Resource Details
Author:

Ji Hyun Kim

Publisher:

ECO-UNESCO

Country of Publication:

Ireland

Year:

2017

Page Count:

76
Description
This resource will guide both young people and their project mentors through their climate action journey in a step-by-step manner:
Step 1. Get a Team Together
Step 2. Select an Environmental Issue and Research
Step 3. Develop an Action Plan
Step 4. Take Action
Step 5. Raise Awareness
Step 6. Reflect
Each step includes:
1) 'Tips for YEA Mentors' on how to support young people to plan and carry out a successful environmental action project;
2) interactive 'activities' that help project mentors facilitate youth-led learning; and
3) easy-to use 'Toolkits' for project mentors to employ when facilitating activities and also for
young people to use as part of their project work.
This manual also links to the Sustainable Development Goals as a starting point for exploring global development (and global underdevelopment) issues and challenges further.