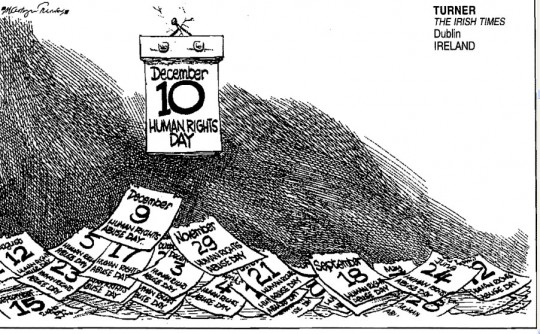 It was Human Rights Day on Saturday! Does that mean every other day of the year is a human rights abuse day or, more accurately, a human wrongs day?
In other news, this year saw the adoption of a historic resolution on Human Rights, Sexual Orientation and Gender Identity at the United Nations Human Rights Council in Geneva in June.   This was the first time that a United Nations Resolution explicitly acknowledged human rights protection as covering sexual orientation.
There was also the recognition of access to the internet as a human right in freedom of expression. Syrian and Egyptian  protesters, Chinese villagers, and Turkish youtube'rs are understandably happy about this – not forgetting those concerned about France's recent attempts at introducing a three strikes rule as an anti-piracy piracy measure (leading to a user being disconnected from the net).
For more information here's a decent introduction surveying access to the internet and global censorship, by Barney Warf from the University of Kansas:

Cartoon source: By Martyn Turner, from The Thin Black Lines Rides Again – Political Cartoons and Development Education