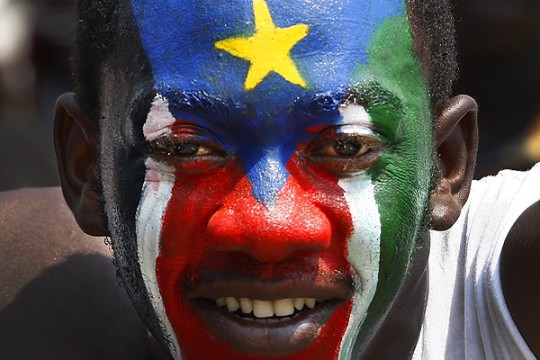 Source: South Sudan: Independence Celebration by babasteve, Flickr
On the 9th of July 2011, after decades of civil war which resulted in the deaths of up to 2 million people and a referendum passed by 98% of voters, South Sudan became an independent country.
Presented below is a brief progress report with some general facts and a balance sheet of indicators about our world's newest nation:
Population: 8.23 million – more than 8 million of whom are still waiting for their official papers to show their citizenship of the world's newest country, so that they can be granted access to life essentials such as employment, justice before the courts, equality before the law, access to bank accounts and other crucial privileges which can often be taken for granted.  Of this 8 million, 500,000 are at risk of statelessness after being stripped of their Sudanese nationality in August 2011 (these are Southerners who are still in Sudan).  A mere 40,000 individuals have acquired their nationality certificate so far. People are claiming that they are waiting for days at the country's only citizenship office in Juba. They also claim that their requests for citizenship are not being granted because they don't 'look' South Sudanese'; originate from outside of capital city Juba; belong to a small or cross-boarder tribe; or have lived outside South Sudan during the war against Khartoum. This can hinder and prolong the application process by months.
Nationality is the most basic of human rights and facilitates access to civil, political, economic, social and cultural rights.
Sarnata Reynolds of Refugees International from her article in The Guardian newspaper on statelessness in South Sudan
Religion: Most of the south is made up of numerous ethnic groups who are mostly Christian, or follow different traditional religions – the two largest ethnic groups being the Dinkas and the Nuers. Before the separation of the north and south, the government was located in the north where the majority of people were Muslim, so, there were attempts to impose Islamic law on the whole country. This was a massive source of contention between the North and the South.
Literacy rate: 27% (15+) – Less than 1% of children finish primary school in some of the poorer parts of the south. In the wealthier north,  50% of children finish primary school. Access to primary education is strongly linked to household earnings.  28% of women attend school, compared to 47% of men according to the Republic of South Sudan National Bureau of Statistics (SSNBS).
GNP: $13.2bn (according to the World Bank)
GDP per capita: $1,546 (according to the SSNBS statistical review 2011) – which compares well with neighbouring countries Kenya ($769) and Burundi ($189). Most of South Sudan's income comes from oil accounting for over 98% of government revenue. But since the pipelines still run through Sudan, this revenue was lost in January 2012 when South Sudan was forced to shut down production after it could not come to an agreement on how much they should pay the North to use their pipelines and facilities. This led to a collapse in government revenues, which in turn, led to an increase in taxes and fees in order to boost non-oil revenue with inflation reaching 75%.
% of households that own shoes: 56%

% of households that own blankets: 50%

% of households that own a radio: 28%

% of households that own a television: 5%

% of households that own a computer: 1%
Source: The Guardian
The Situation of Women: Some progress has been made for women South Sudan, for example, the new constitution sets the minimum age for marrying at 18 and that women (or men) should not be married against their will. However, South Sudan is a very new country and traditional law is still very widely practiced. Domestic violence, rape, forced marriage and 'an extreme lack of rights' for women, according to Navi Pillay, the UN High Commissioner for Human Rights after her visit in May 2012, are still hugely common. In some cases young girls are even beaten to death by their male relatives if they refuse a forced marriage – some even as young as 14. In Unity state for example (also known as the Greater Upper Nile region), nearly a quarter of girls are married by the age of 15 and nearly two thirds are married by 18. Handing over female members of the family, even girls as young as nine, for compensation in feuds has also been known to happen quite frequently.
According to the UN, South Sudan has the highest maternal mortality rate in the world with 2,054 women dying per 100,000 live births and the lowest female literacy levels, with less than one-fifth of women over the age of 15 being able to read and write.
The interim constitution calls for a minimum of 25% representation for women in any public decision-making body. However, according to the South Sudan Women's Empowerment Network (SSWEN), of the six political advisers to the president, only one of them is a woman. South Sudan has 29 national ministers; seven of whom are women and of the 20 heads of independent commissions, only two are women. Helen Animashaun who works with SSWEN for VSO says
the transitional constitution is not being rolled out at grassroots level. Getting hold of the constitution itself is not easy, and with such high illiteracy levels of more than 80% among women, they cannot read it. So without effective dissemination of the constitution, how else are women to know about their rights?
Millennium Development Goals: South Sudan is one of the poorest and least developed countries in the world with more than 80% of the population living on less than $1 per day, massive illiteracy – especially with regards to women – and the worst maternal mortality rate in the world. Six out of every ten people have no access to any form of health care.
In order to take a measured look at South Sudan's progress in terms of development, (although they are not ideal criteria) let's focus on the MDGs:
Goal 1: Poverty and Hunger
–          Chronic hunger was reduced from 48% to 33% between 1995 and 2004

–          However, 50.6% of the population live under the poverty line

Goal 2: Universal Primary Education
–          Net enrolment in primary school was 46% in 2010, but far fewer children complete all 8 years.

–          The qualified teacher to children ratio is 1:117

Goal 3: Gender Equality
–          Girls make up only 36.9% of primary school enrolment.

–          34% of all seats in the South Sudan Legislative Assembly are held by women

Goal 4: Child mortality
–          There has been a decrease in under-five mortality from 250 per 1000 live births in 2001 to 135 in 2006
Goal 5: Maternal health
–          South Sudan has the highest maternal mortality rate in the world – 2,054 per 100,000 live births. That's a one in seven chance of a woman dying during or after giving birth.

–          There is one qualified mid-wife for every 30,000 women

Goal 6: Diseases
–          HIV prevalence among the 15-24 year old population was 3.1% in 2006
Goal 7: Environmental sustainability
–          Access to safe water and sanitation rose from 47% in 2006 to 67% in 2010 and 6% to 14% respectively.
Source: International Development Committee, 15th Report, UK (2012)
?In this case study "?Support to media where media freedoms and rights are constrained", from BBC Media Action, they take a close look at support to, and the development of, the media in South Sudan. It presents the challenges – and opportunities – in meeting the information and communication needs of people living in Africa's newest nation. The report highlights a need for more long-term and harmonised efforts in supporting the media to foster national and inclusive dialogue that supports development and peace-building.
The BBC have also devised an interactive map to show the extent of the divisions between the richer, Arabic-speaking, Muslim Sudan and the poorer South, devastated by years of conflict and neglects. Have a look here at Sudan: A Country divided. Why not also have a look at their slide show of South Sudan's first year, and their opinion piece from blogger PaanLuel Wel on how South Sudan has not lived up to the hype.
For more general facts and recent history info see the UN profile on South Sudan.