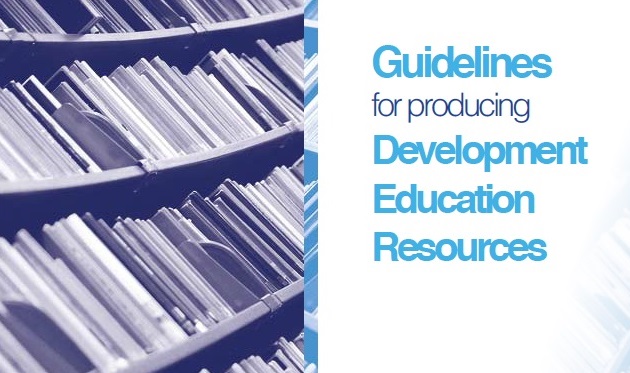 This week we launched the Guidelines for Producing Development Education Resources, with its own dedicated section online.
Following the publication of Audit of Irish Development Education Resources research in April 2013, which looked at DE resources produced in Ireland over the period 2000-2012, the opportunity to develop a set of supportive strategies for resource producers was identified in the report.
By the autumn the guidelines had moved from an idea into action with the formation of the guidelines coordinating committee in December (the programme of activities delivered since the audit can be found here).
As a joint project with Dóchas (the Irish Association of Non-Governmental Development Organisations) and the Irish Development Education Association (IDEA) the development of the guidelines involved the constituent members of both organisations and the management committee members of developmenteducation.ie.
Over 40 individuals and organisations across all education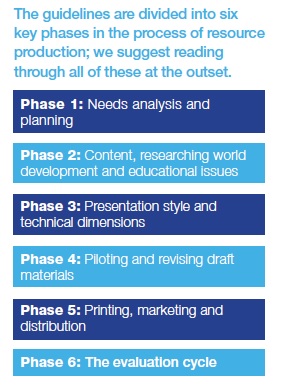 sectors (primary level, postprimary education, adult education and the youth sector) and organisations of varying sizes took part in the public consultation in spring 2014. The finalised guidelines document almost doubled in size from the consultation document as a direct result of the comments from development educators during the consultation period.
The guidelines have been designed to act as a supportive  and practical tool for anyone to use – whether a teacher, a youth worker or development education workers – rather than as a prescriptive set of instructions.
We hope that they reflect the vibrant ideas, long experience and professionalism of development educators that have been central in preparing the final document.
Some of the key supporting characteristics of the guidelines include:
To recognise that anyone can produce a resource
To reflect on the target audience, potential and actual impact of a resource. Make evaluation a permanent feature of resource development (before, during and after production)
To learn from others: knowing resources already developed can assist in seeing 'what's out there' already. Education practitioners have a lot to contribute to the development of a resource and can field test take-up
To use a range of tips, suggestions and examples in project planning
To consider the four key dimensions of development education as potential indicators for building a resource: i) knowledge and ideas, ii) values and perceptions, iii) capabilities and skills, iv) experiences and actions
To make decisions about content, context and driving narrative or voices (what perspectives are presented – i.e. African, Latin America, privileged, European, Male, official position, female, economic, child etc. )
To make decisions about educational approaches and learning outcomes – choosing appropriate indicators to fit the overall outcome of the resource.
Thinking about producing a resource and the Irish Aid annual grants scheme 2015
As clarified in the Irish Aid 2015 FAQ document:
"Yes, a proposal for the development of a resource is deemed eligible for funding in the 2015 grant round."
The guidelines are offered as a tool for considering the production of a resource and could be used in supporting internal decisions and partnerships about what you may want to concentrate a resource on, whether it is a set of educational posters, a digital resource, video, print resource or otherwise and how to go about doing this.
The deadlines for the annual grant round are as follows
Deadline for requesting an "Eligibility Criteria Form" is 5pm Monday 20th October. You must do this via the Irish Aid website Contact Form
Deadline to return this completed form is Thursday 23rd October
Deadline for the final application is Thursday 27th November at 5pm.
More information can be found at https://www.irishaid.ie/what-we-do/who-we-work-with/civil-society/development-education-funding
In the next fortnight develpmenteducation.ie will present a range of the resources that have been produced since the audit was published, which can be used for researching broadly what the DE resource landscape looks like and deciding what theme or sector you may wish to concentrate resource production efforts on.
In the meantime the audit can be read online at developmenteducation.ie/audit
______________________
Note: with the support of Dóchas, IDEA, developmenteducation.ie and Irish Aid print copies of the guidelines are also available. Contact us for a copy.