Resource Title
Guidelines for Producing Development Education Resources
Summary
The Guidelines for Producing Development Education Resources are offered to development educators, teachers, youth workers, writers and development workers in non-governmental organisations as a stimulus tool for planning and producing resources.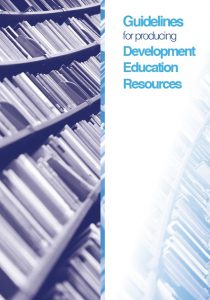 Resource Details
Author:

Fiona Coyle, Tony Daly, Mary Hanlon, Eimear McNally and Ciara Regan

Country of Publication:

Ireland

Year:

2014

ISBN:

978-0-9930234-1-5

Page Count:

26
Intended Audiences:

Adult and Community Settings, Early Years, Higher Education, Junior Cycle, Junior Primary, Senior Cycle, Senior Primary, Transition Year, Whole School, Youth Groups

Formats:

Guidelines, Research Document

Topics:

Adult Education, Education, Teaching
Description
The guidelines for producing development education resources were jointly produced by developmenteducaiton.ie, the Development Education Working Group of Dóchas and the Irish Development Education Association (IDEA) following a national consultation in spring 2014.
The guidelines have been designed to act as a supportive and practical tool for anyone to use – whether a teacher, a youth worker or development education workers in adult and community settings – rather than as a prescriptive set of instructions.
Some of the key supporting characteristics of the guidelines include:
To recognise that anyone can produce a resource
To support reflection on the 'needs' and 'demands' of target audiences, potential and actual impact of a resource. Make evaluation a permanent feature of resource development (before, during and after production)
To learn from others: knowing resources already developed can assist in seeing 'what's out there' already. Education practitioners have a lot to contribute to the development of a resource and can field test take-up
To use a range of tips, suggestions and examples in project planning (such as curriculum link choices)
To consider the four key dimensions of development education as potential indicators for building a resource: i) knowledge and ideas, ii) values and perceptions, iii) capabilities and skills, iv) experiences and actions
To make decisions about content, context and driving narrative or voices (what perspectives are presented – i.e. African, Latin America, privileged, European, Male, official position, female, economic, child etc. )
To make decisions about educational approaches and learning outcomes – choosing appropriate indicators to fit the overall outcome of the resource.
The document has been divided into 6 key phases for considering resource production:
Phase 1: Needs analysis and planning
Phase 2: Content, researching world development and educational issues
Phase 3: Presentation style and technical dimensions
Phase 4: Piloting and revising draft materials
Phase 5: Printing, marketing and distribution
Phase 6: The evaluation cycle
A further links section is also included which provides access to a range of sector specific codes and guidelines to assist further research and reading with hyperlinks for onward links.
Further reading
Read: blog post detailing background and context to the development of the guidelines
An audit of Irish development education resources from 2000-2012 presents an overview of resources produced across a 12 year period divided by themes and education sectors https://www.developmenteducation.ie/audit