Resource Title
An Audit of Irish Development Education Resources
Summary
As part of its work programme for 2012, an audit of available development education (DE) resources produced in Ireland from 2000 to 2012 was conducted by developmenteducation.ie as part of a broader agenda of building up an annotated online database of such resources for the resources catalogue.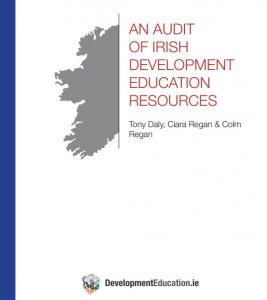 Resource Details
Author:

Tony Daly, Ciara Regan and Colm Regan

Publisher:

DevelopmentEducation.ie

Country of Publication:

Ireland

Year:

2013

ISBN:

978-0-9567185-9-4

Page Count:

23
Description
An Audit of Irish Development Education Resources is the first national study of development education resources produced over the period 2000-2012, broadly defined, that aims to record, annotate and 'audit' resources identified across all major education sectors in Ireland. The audit:
Is based the study on 236 resources covering a a 12-year period from 2000 to end of 2012
Includes 5 education sectors:

Adult and Community Education (including Further Education); Youth; Higher Education; primary education and post-primary education

Describes

the availability or, more accurately, accessibility of such resources

Designed and developed a

statistical matrix to capture agreed qualitative indicators, organised by sector

Includes findings based on thematic focus, by sector and target group and an extended commentary on gaps and opportunities, the 'digital debate', change and campaigning resources, and
Finishes with 8 recommendation suitable for educators, resource producers (whether they be a youth group or civil society education writer), donors and researchers.
Contents
1. Introduction
2. Research Methodology
3. Limitations of the audit
4. Audit statistics and findings
5.  Commentary and conclusions
6. Recommendations
Appendix 1: template for resource audit annotations
Appendix 2: Content Framework Matrix
Appendix 3: No. of resources by thematic focus and sector
Database of resources annotated
Project Timeline
The timeline for producing the audit during 2012 was as follows:
Audit project approved by Irish Aid and MC – 14th August

Research design (template agreed) – 21 to 31st August

Literature review – 1 to 14th September

Pilot phase –14 to 22nd September

Pilot documents reviewed by MC and approved – 3rd October

Auditing phase (collection and annotation) – 4th October to 20th December

Report writing – 20 to 31st December

Review, design and launch – spring 2013