Mary Teresa McBride of Changemakers presents their Black Lives Matter Bookless Book Club as part of the Showcase of initiatives and approaches addressing inequality through Development Education for IDEA Ireland's Virtual Conference 2021.

What We Did & How We Did it
Features, blogs and teaching tips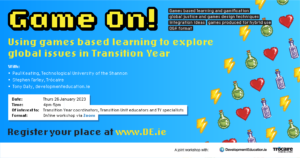 How can young people learn about issues affecting our world today through games-based learning? What is gamification and what contributions can games-based approaches make in challenging and stirring action in Transition Year spaces on global justice and human rights?
Read More »