Who we are
Joe Murray of Afri, Action for Ireland.
Afri's goal is the promotion of global justice and peace, and the reduction of poverty; this includes, but is not limited to, the progressive reduction of global militarisation, and responding to the threat of climate change, corporate control of resources and water, and interference with food sovereignty.

What We Did and How We Did it
Features, blogs and teaching tips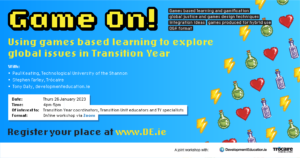 How can young people learn about issues affecting our world today through games-based learning? What is gamification and what contributions can games-based approaches make in challenging and stirring action in Transition Year spaces on global justice and human rights?
Read More »