Resource Title
10 Myths About Global Hunger: sorting facts from fiction
Summary
The 10 Myths About…. series looks to sort facts from fiction on key global development, human rights and justice issues.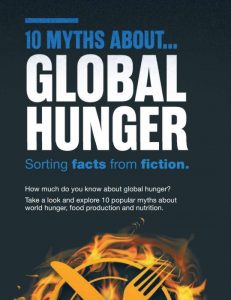 Resource Details
Author:

Patrick Coffey, Michael Doorly, Tony Daly, Dorothy Jacob, Ghalya Farahat, Dave O'Mahony, Aoife McDonnell and Colm Regan

Country of Publication:

Ireland

Year:

2018

Page Count:

28
Description
This pocket-size booklet:
was published to coincide with World Food Day 2018 on October 16 2018 and as part of a #ZeroHunger series in conjunction with the Professional Development Service for Teachers, developmenteducation.ie, Concern Worldwide and Self Help Africa
presents 10 key myths on global hunger issues relating to inequalities, food production, geography, nutrition (and more)
draws on Sustainable Development Goal 2 Zero Hunger, as well as the work of the World Food Programme
includes references per each myth following a true/false and explainer approach.
Available from:
Download 10 Myths About Global Hunger (1.13MB)
Test your knowledge and take the online quiz's prepared for primary and post primary levels by the PDST at Scoilnet World Food Day section.
Print copies available – check with contact@developmenteducation.ie