Resource Title
10 Myths About Inequality Worldwide
Summary
How much do you know about inequalities in the world today? Take a look and explore 10 common myths about market economics, women's empowerment and the technology divide.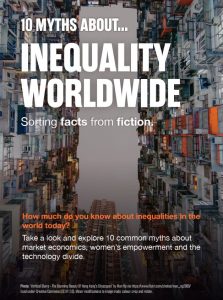 Description
"It is a shocking reality that at a time when the world has never been wealthier, it has also never been more unequal. This reality affects not just income or wealth but also health, education, life chances and meaningful participation in society."
This pocket-size booklet includes:
Why does thinking about inequality matters
10 short myths about the economics, gender equality and  the role of technological solutions to inequalities
Links to the Sustainable Development Goals
References per each myth following a fact/fiction and explainer approach
The 10 Myths About…. series looks to sort facts from fiction on key global development, human rights and justice issues.