Resource Title
A Better Tomorrow: Religious Education Resource for Children
Summary
A Better Tomorrow is a religious education resource for use in primary schools with a focus on stories from Zimbabwe on how Covid-19 has changed people's daily lives, climate change and reflecting on what you can do.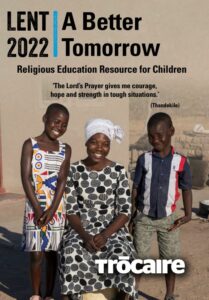 Resource Details
Author:

Anna Keegan and Niall Quillinan

Publisher:

Trócaire

Year:

2022

Page Count:

11
Description
This resource has been designed for children who are attending primary school. It can be used in the
classroom by primary school teachers, as part of a children's liturgy group or family mass group.
This resource includes:
4 lesson plans
links to the Catholic Pre-school and Primary Religious Education Curriculum for Ireland
integrates Laudato Si, about the environmental crises our world is facing today
This resource is part of the 'A Brighter Future' education resources during Lent by Trócaire.