Resource Title
A Down to Earth Guide to The Debt Crisis
Summary
This is a magazine style resource with country focused stories on debt from around the world. This resource contains a rich overview of the debt debate to get you thinking. It is part of a series of short, country focused guides aimed at bringing global issues 'down to earth' through the use of case studies and human stories.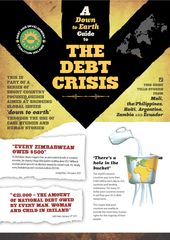 Resource Details
Intended Audiences:

16+ years, Adult and Community Settings, Transition Year, Youth Groups

Formats:

Briefing, Magazine, Policy Document, Research Document

Topics:

Debt, Development, Education, Post Primary, Transition Year
Description
This resource contains stories from Mali, the Philippines, Haiti, Argentina, Zambia and Ecuador. The resource is very suited to development education audiences and serves as an accompanying resource to the debt learning activities in 'How the World Works'. There are a number of facts and figures presented which could be used to stimulate debate and discussion within the classroom, or other groups.
Big Ideas in this resource
To present 'The Debt Crisis' in an accessible manner
To stimulate discussion about the issue of debt
To tell stories about debt from a few different countries around the world
Suggested use:
To teach/learn about the debt crisis.
Further Reading
This resource is coupled with The Debt and Development Coalition Ireland's Down to Earth Guide to Tax Justice