Resource Title
A Question of Aid: Aid in an Unequal World
Summary
This CSPE/Citizenship resource has been developed for teachers to explore with their students the issue of overseas aid in the classroom. It is designed to encourage discussion and debate, critical thinking and active learning.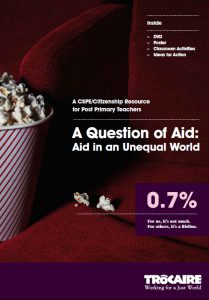 Description
This resource comes with a DVD, posters, classroom activities and ideas for action. It gives an introduction to poverty and aid, different forms of aid, Ireland's role, different perspectives on aid and the role of Trócaire.
There are also helpful teachers notes and quizzes throughout, as well as a glossary of key terms at the back.
Part 1: Did you know? Introduction to Poverty and Aid (3:06mins)

Part 2: What is Aid? (2:45mins)
Part 3: Is Aid the Solution? (2:54mins)

Part 4: Is Trócaire an Aid Agency? (2:53mins)