Resource Title
Be The Change: a toolkit for taking action against poverty and injustice
Summary
A resource produced for individuals and groups interested in a 'how to' guide to campaigning and changemaking. An activist toolkit designed for those looking to learn how to plan a campaign and effectively use social and traditional media to communicate your message on global issues to fight injustice from Ireland.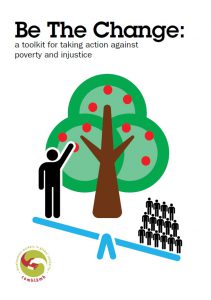 Description
"If you want to take action from Ireland on the issues that cause poverty and injustice around the world, then this is the booklet for you! Maybe you've spent some time in a developing country, and it changed the way you see the world and inspired you to do more when you returned home, or maybe you're someone who feels passionately about injustice and want to do something to challenge it."
Once you have worked out the issues you are interested in and passionate about, this resource is here to help you begin to take action. It includes practical advice, tips and stories of how others in Ireland have had a positive impact on the world by, for example, using the media, engaging with our political system, and campaigning. It also includes information on where to go to learn more and develop your skills and confidence further.
This resource supports readers in joining the many individuals, groups and movements who find a myriad of ways to fight against unfair situations. These include big and small things, individual and group actions.
This resource aims to support individuals and groups in "figuring out how they can be part of making this world a more equitable and just place where the many matter more than the few".
This resource includes:
Annotated lists of useful online links
Inspirational quotes and interviews with activists
Reflective questions and opportunities for facilitating self and group reflection
Snappy, easy to access strategies and tips for planning and organising individual and group activism in a practical manner
Samples and short case studies in each section to guide readers through successful examples and learning from activism in practice
Contents:
Introduction
Decision
Campaigning
Communicating your message
Getting the most from the media
Social media tips
Direct Action
Lobbying the powers that be
Using the Irish political system
Talking to your Political Representative
Further info: Be the Change is a companion to 3 other Comhlámh resources that support returned development workers and overseas volunteers:
"The Coming Home Book"- settling back into life in Ireland
"What Next? A Practical Guide to Continuing Development Work in Ireland" – how to stay engaged in global development action at home
"What Next: a Toolkit for Returned Volunteers" – a process of reflection upon return and continued engagement in development issues
These resources can be accessed at https://www.comhlamh.org/resources
Available from:
Download Be The Change PDF (2.43MB)
Contact Comhlámh to request print copies of the resource from info@comhlamh.org or by calling +353 (01) 4783490
Learn more about community activism, training courses and events that support Comhlámh's approach – "Often, the best way to learn more is by getting involved with groups working in advocacy and campaign work" – visit www.comhlamh.org