Resource Title
Bookbird: A Journal of International Children's Literature
Summary
Bookbird is a quarterly peer reviewed journal that "aims to communicate new ideas to the whole community of readers interested in children's books."
The journal looks at various topics and reading initiatives as they relate to international children's literature. Books are reviewed about global issues, written by international authors.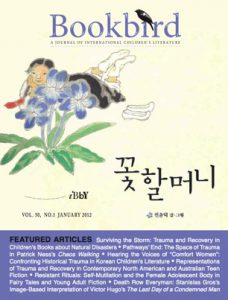 Resource Details
Author:

Roxanne Harde (Editor)

Country of Publication:

Canada
Description
The Bookbird journal has been produced on a quarterly basis since 1963. It has transformed since its first edition. The journal looks at a variety of issues as they relate to children's literature on the international stage.  Issues have included topics like: climate change, justice, human rights, inter and multi- culturalism, global authors, colonialism, black history and many, many more issues.  Even the table of contents over the nearly 5 decades is worth a look.  Check out for example the 1969 second edition which looks at the principles of promoting Human Rights in children's books.
The website www.ibby.org includes a full library of backcopies of Bookbird dating back to 1963.  You can also view the table of contents of more recent copies – from 2008 to present – on the site.
Further Reading
There is a great virtual exhibition on Books from Africa, Books for Africa (2006) by the International Board on Books for Young People, seen as a "source of information for quality African children's books produced for teachers, researchers, parents and for all those interested in children's literature.
The section is organised into: Picture books in various languages; children's fiction; folk tales; fiction for young adults, and 'other' which includes the biography of Julius Nyerere, children's poems about the genocide in Rwanda; and others.
Other info:
IBBY is an international organisation. Information about the Irish branch and newsletter