Resource Title
Cause & Effect: 4 stories on HIV & AIDS
Summary
In 2011, 15-24 year olds accounted for 40% of all new adult HIV infections around the globe verifying that HIV and AIDS education is extremely important in secondary education, although the topic of sex can be risky to bring up in schools it is imperative for young people to research, debate and even take action on the issue among their peers or in the wider global community.
This resource pack and the 4 unique spoken word video stories cover key aspects of HIV & AIDS including stigma, prevention & testing, access to treatment, and living positively. With full lesson plans, tips, activities, and student handouts you will have everything you need to teach HIV & AIDS.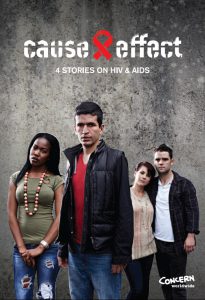 Description
After having viewed the video (sometimes two or three times) teachers are encouraged to allow the time and space for students to unpick the messages and deeper meanings conveyed in each story. The backdrop to each story is universal. The stories while filmed in Ireland represent anywhere in the world where people suffer from stigma because of HIV and AIDS or do not have access to treatment or are unaware of its causes and effects.
By using Cause and Effect students will not only be better informed about all aspects of HIV and AIDS but will become passionate advocates for its eradication.
The pack includes teacher guides and student handouts per story, with a range of engaging activities (role play cards; debate cards; worksheets) plus case studies and statistics, all prepared to use the video case studies as the springboard for class discussion and lessons.
This pack also makes use of Concern's experience in tackling HIV and AIDS through its various programmes in Africa, India and South East Asia.
Evaluation and quiz sheets included for monitoring attitudinal and knowledge change on the issues.
The videos are 3-4 minutes long each.
Strong ideas for students to take a range of actions on HIV and AIDS awareness as a personal, community and global issue.
Video 1: An Introduction
Video 2: Prevention and Testing
Video 3: Stigma
Video 4: Access to treatment
Video 5: Positive living
Further reading
Available from:
Online access
The 4 spoken word video stories (Prevention and testing; stigma; Access to treatment; and Positive living) and the introduction are available to watch and access on this online support web page on the Concern website.
Purchasing the pack