Resource Title
Challenge to Change: a Development Education Project in Presentation Schools
Summary
The annual Challenge to Change resources feature DE project work as part of development education projects aimed at young people attending Presentation primary and secondary schools in Ireland.
The initiative seeks to raise awareness and understanding of development issues and global inequality through the exploration and engagement in issues surrounding as (in)justice, human rights, fairtrade, racism, exploitation, etc.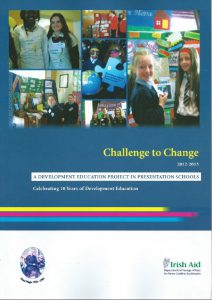 Description
The annual resources, stretching back over a decade of DE Presentation schools work, form collections of action project case studies from students and teachers in over 20 participating schools across Ireland that take part in the Challenge to Change project each year.
Each issue is filled with a range of student reflections, photos, sample project documents and details of project outcomes and actions.
The overall project vision is driven by human rights, social justice, sustainability and interculturalism concerns and collaboration with the Presentation network through linkages with Presentation schools abroad is also encouraged.
By informing the students and the wider community the projects seek to bring about a heightened awareness, a social consciousness and a broader vision and an appreciation of developmental issues.
Aims of the project:
To raise awareness and bring about a greater understanding of global issues
To create and foster a critical mindset in relation to inequality, social justice and human rights
To experience at first hand in a real and concrete way how local action can impact positively on global inequality
To forge closer links between the Irish students and those in developing countries
To develop an open, sharing and collaborative dialogue between our school communities and those of our Presentation network abroad
To disseminate information and good practice
Further information:

More info can be found by contacting: Presentation Education Office, Warrenmount House, Blackpitts, Dublin 8.