Resource Title
Child Labour
Summary
This 47 page resource on Child Labour covers four key areas related to hunger: understanding hunger; ending hunger; the international response to hunger; and Concern Worldwide's approach to hunger.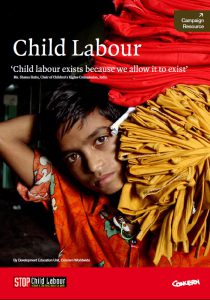 Resource Details
Author:

Joanna Rea

Publisher:

Concern Worldwide

Country of Publication:

Ireland

Year:

2008

ISBN:

9780952450610

Page Count:

47
Description
Child Labour is divided into seven comprehensive sections and designed in an attractive manner with pie charts, well laid out diagrams, maps and information boxes for use by teachers and students and general readers.
The first section two sections focus on A History of Child Labour and Child Labour Today.  These sections concentrate on defining child labour, presenting a short history of slavery, the various types of child labour and some of the laws that challenge it. It also explodes some common myths that surrounding child labour.
Section's three and four explore two of the most important tools in tackling child labour: education and the role of big businesses. Education is a human right, as well as one of the most important elements in lifting children out of poverty. Some case studies are explored from direct experience of Concern's programme's across Africa also. The impact of big business, its role and the role of governments is introduced in section four. Corporate social responsibility and some case studies of well-known multinational corporations are used to debate the issues and responsibilities of big business.
The final two sections, sections five and six, are about The Consumer and Taking Action Against Child Labour. Should we boycott? What is the reality of the chocolate and cotton trades? What can I do about it? These are the kinds of questions addressed in the closing sections of the resource.
Further Reading:
Other publications from Concern's Campaign Resource series:
Visit the Its time to end child labour campaign page on www.developmenteducation.ie for FAQs and taking action information