Resource Title
Climate Change, Climate Justice 3: Trócaire's Lent 2017 Resources
Summary
Climate change is the defining issue of our time. Let's do something about it! Together. Today.
Using their Lent 2017 resources, learn from the communities Trócaire work with who experience its devastating impacts, on how to develop your own solutions to climate change.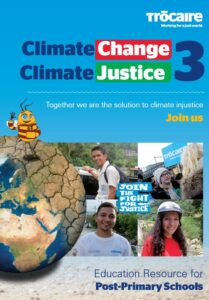 Description
'Meet Copequito the ant from Honduras. In the local community where we work, Copequito has a vital job – to save lives. Copequito prepares children to react when a flood or hurricane hits.'
Trócaire's resources for Lent 2017 build on resources from previous years, with a specific country focus of Honduras.
There are five different resources;
Early Years
Primary
Bunscoil
Post Primary
Meanscoil
In these activity-based resources you will find stories, photo galleries, videos, animations, facts, information, colour-ins, PowerPoints and more.
Available from:
Download Climate Change, Climate Justice, Climate Action 3 materials for