Resource Title
Connecting Communities – a practical guide to using development education in community settings
Summary
With 10 ready-made workshops, this 'how to' handbook has been designed for use with groups seeking to explore both local and global aspects of common issues, relevant to communities all over the world.
It is a resource for facilitators/tutors working with groups in community education and community development contexts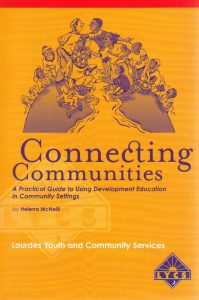 Description
The handbook contains ten separate workshops exploring issues such as housing, work, migration, drugs, gender, debt, racism, health and people power. It has been specifically designed for use with groups seeking to explore both local and global aspects of these issues.
Book contents
Workshop 1: Unequal Ireland, Unequal World – exploring global inequality
Workshop 2: Life and Debt – causes and consequences of debt
Workshop 3: Home Sweet Home – housing: a human need
Workshop 4: Your Health is your Wealth – a look at health inequality
Workshop 5: Hard Labour – exploring work and the Economy
Workshop 6: History and Development – gender and development
Workshop 7: The Drugs Trail – Drugs and the International Drugs Trade
Workshop 8: People on the move – human migration
Workshop 9: One Race, the Human Race – understanding racism
Workshop 10: We the people – a look at people's power
The resource contains background information, cartoons, handouts, ideas for action and factsheets on the various topics explored in the workshops, so a vast knowledge of global issues is not necessary.
It can be used for introducing development education to groups and communities and as a source for managers and facilitators who want ideas for group work or education sessions.
Sample pages from Connecting Communities: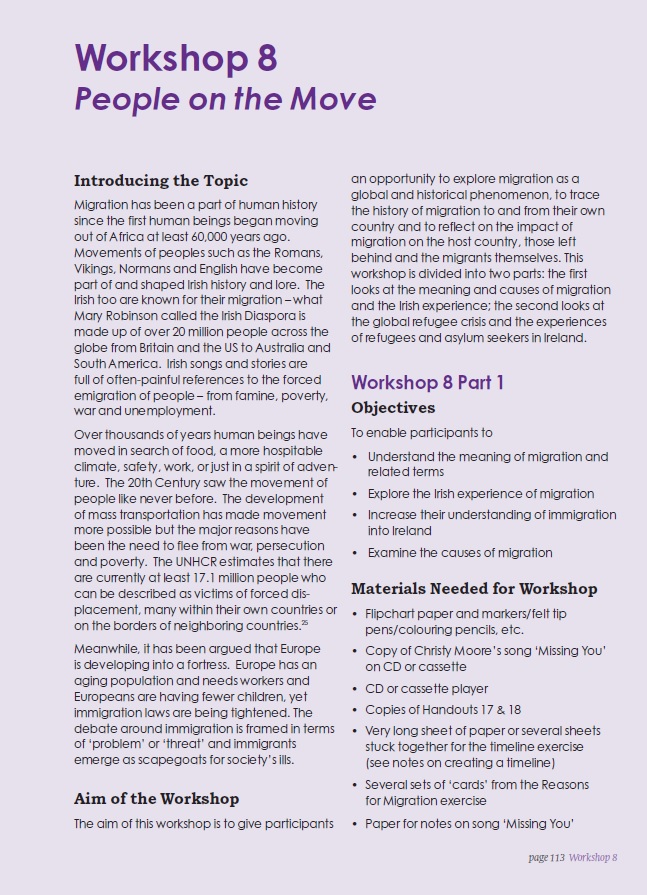 Further information
Connecting Communities is a product of development education past initiatives at LYCS and based issues chosen in the past by participants. It consolidates previous workshops, course sessions and piloting of newer materials for a variety of groups ranging from community workers undertaking a social analysis course to basic education students.
Available from:
An updated version of Connecting Communities will be available free on line soon.
In the meantime a limited number of copies of the original are available from LYCS.
Cost: postage & packaging of €2.75 for the first copy
Alternatively, a copy can be collected from the LYCS main office
Download sample pages PDF (1.72MB)
More info at https://www.lycs.ie (see Development Eudcation section)
Email: deved@lycs.ie
Phone: 01-8363416
Lourdes Youth and Commmunity Services (LYCS),Lower Sean Mac Dermott Street Dublin 1, Ireland