Resource Title
Creativity, Resilience & Global Citizenship: Activity Toolkit
Summary
This publication is a step by step guide to a range of activities exploring the themes of Creativity, Resilience & Global Citizenship through a wide range of workshops, sharing creative methods and tools.
It has been co-developed by the Fast Forward training programme which brought together young people and youth workers from Ireland, Hungary, Italy and UK in Cork, Ireland in January 2015. It was developed with thirty young people: youth workers, artists and educators who are passionate about supporting young people to grow as global citizens.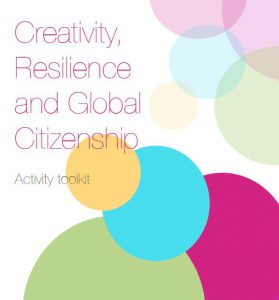 Description
Through the programme and as shared in this resource, the participants identified a range of competences that they believe are important to nurture if young people are to grow as resilient, active global citizens:
Passion
Creativity
Motivation to learn and reflect
Awareness and critical thinking
Confidence and motivation
Initiative and participation
Commitment and responsibility
Teamwork and co-operation
Solidarity
Open-mindedness, acceptance of diversity, belief in equality and ability to engage with different perspectives
Empathy, openness and reaching out to others
Awareness consciousness of oneself and others
Humility, forgiveness and consideration of others' needs
Flexibility
The activities that are presented support the nurturing of these competences. While some activities have been presented with the structure and flow of a workshop, we see this toolkit as a pot of inspiration. We encourage your creativity in adapting and combining activities to meet the needs and interests of your own participants.
Creative methodologies explored (and suggested) include:
creative writing
use of clay
turning to our environment
creating a personal poster
introducing' theatre of the oppressed' methods
songwriting
The key strands that activities reinforce:
Creativity: Connecting with our own creativity empowers us to find our voice, develop our perspectives and express ourselves. Collaborating creatively inspires ideas, action and hope for a more just and sustainable future. It evokes participation, passion and positive change.
Resilience: The focus on resilience and wellbeing is in recognition of the challenges of living in a rapidly changing, challenging and unequal world. We need to nurture young people's capacity to be resilient so that they are able to cope with these changes in a way that has positive impact on themselves and others around them.
Global Citizenship: A sense of global citizenship is important so that our values, behaviour and actions are shaped in a way that makes a more viable, fair and just world possible
More info
An accompanying publication, "Creativity, Resilience & Global Citizenship – Explorations, Reflections and Recommendations", presents the connections between the programme themes, our learning outcomes and recommendations. It is useful to provide a context for anyone engaging others in the creative activities presented in this toolkit.
The programme was delivered in partnership with Youth work Ireland,Cork and was supported by Leargas under Erasmus+
The purpose of the training programme was to explore, learn and share our insights about the themes of creativity, resilience and global citizenship. A publication developed during the programme presents the connections between these themes, our learning outcomes and our recommendations as well as a practical tool kit for use by educators.
It has been co-developed with thirty young people: youth workers, artists and educators who are passionate about supporting young people to grow as global citizens. They chose to participate as they want to improve their practice in engaging young people with global citizenship education.
They also want to contribute to influencing change in policy and, ultimately, the environment that young people grow up in in a way that will enable them to be more resilient and active global.
Note: The outcomes are relevant to any field where learning takes place, including formal education.