Resource Title
Debating Aid: A Development Education Resource
Summary
'Is aid a duty or an option? What are our international obligations? Does aid work or is it a waste of resources? Is NGO aid more effective than government aid? What is Ireland's role in the international aid debate? Aid and celebrities, aid and justice, aid and trade, aid and corruption – what are the issues?'
These are just some of the questions discussed and debated in this development education resource presented in an easily accessible manner in order to enable the reader to make their own mind up on these issues.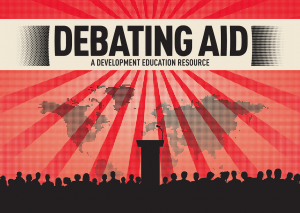 Description
Starting with an introduction as a reminder on why we need to debate this issue, and a nod to Arundhati Roy's article on 'The Algebra of Infinite Justice', Debating Aid comprehensively investigates every aspect of the controversial issue of aid – from the perspectives of its critics, as well as its defenders. It explores the question of aid as a choice or duty (both religiously and morally) as well as the history and emergence of aid onto the political agenda.
While examining these issues, Debating Aid also posing challenging questions to the reader to enable and encourage them to engage with the issues and to come to their on conclusion on the subject of aid, having been given all of the facts in a very accessible manner.
Big Ideas in this Resource
Arguments For: Aid is necessary in crisis situations; a large number of individual projects do have an impact and do promote human development; a lot has been learned about the development process through engaging with aid; Aid on its own is not enough; Aid alone cannot be blamed for the failure of development.
Arguments against: It does not work because aid does not get to the people who need it most and us continually undermined by corruption; Aid does not achieve its goals because it is inherently negative, that it has, in fact, made things worse; Aid cannot overcome the unjust international economic system that exists; Aid does not work because it was designed never to do so.
Common themes: We are all part of a bigger world picture, connected to each other in many different ways. Our actions impact on others, positively and negatively, and we do not have the right to ignore these impacts; We have duties to ensure that what we do does not harm others. And if it does, we have a duty to make amends for anything we have done; Everybody's human rights come with duties. In order to claim our own, we have a duty to defend other's; Human thought, rationality and emotion go beyond merely 'the individual' meaning we must give equal weight to the interests and needs of others as we would our own; Reasonable beings must act reasonably.
Suggested further reading
Collier, P 'The Bottom Billion' (Oxford University Press, 2007)
Pogge, T 'World Poverty and Human Rights' (Polity Press, 2008)
Riddell, R 'Does Foreign Aid Really Work?' (Oxford University Press, 2008)
Singer, P 'The Life You Can Save: Acting Now to End World Poverty' (Picador, 2009)