Resource Title
Development Issues: Aid Works
Summary
Aid Works is a four-page fact sheet exploring the main issues and questions raised about aid, written in a very accessible and user-friendly manner.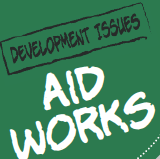 Resource Details
Author:

Nicki Flynn and Michael Doorly

Publisher:

Concern Worldwide

Country of Publication:

Ireland

Year:

2009

Page Count:

4
Description
Aid Works is a concise factsheet from Concern that explores the subject of aid. It explains what aid and official development assistance (ODA) are and how ODA is calculated. It gives clear key facts on the issue as well as a case study of progress made in Uganda as a direct result of aid from the Irish Government and Concern itself.
The factsheet has a comprehensive section on debating the subject of aid, exploring the arguments for and against – while also stating Concern's own viewpoint on the issue of aid. Aid Works also looks at aid effectiveness and what be being done to improve this.
Suggested Use
To gain a basic knowledge on the issues surrounding aid and to stimulate discussion or debate also.
Further Reading
Part of Concern's Development Issues series of 4 page information sheets on key issues in development. Other issues in the series:
More detailed educational publications from Concern that are free for download and provide in-depth analysis, facts and figures on each theme include:
All of the resources can also be ordered by contacting Concern here.
Download Debating Aid.
Other info
This is one of a number of publications from Concern on development issues. For more publications like this one, as well as posters, books and other downloadable resources, see https://www.concern.net/get-involved/schools/resources