Resource Title
Disgrace
Summary
This Booker Prize winning novel set in post-apartheid South Africa, is about redemption, the shift in political power and the problems caused by the country's deeply divided past and problematically shared future. Disgrace tells of a chilling, compelling human story which you will find difficult to forget.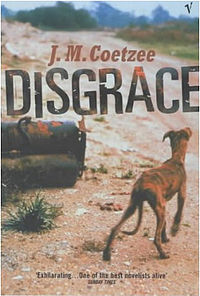 Description
The South African author J.M. Coetzee is one of the most highly respected and frequently studied contemporary writers. His early work in particular was received as a response to the era of apartheid in South Africa with Coetzee occupying an interim position in a very particular branch of postcolonial writing. He was the first writer to win the Booker Prize twice – for the Life and Times of Michael K in 1983 and for Disgrace in 1999. He was awarded the Nobel Prize for Literature in 2003. He was also nominated for the 2009 Booker for his autobiographical novel, Summertime.
Born in 1940 Coetzee studied at the University of Cape Town and the University of Texas, after which he taught at the State University of New York. He returned to South Africa to take up various positions at the University of Cape Town. He emigrated to Australia in 2003 where he has an honorary position at the University of Adelaide. He has published over twenty books, but three in particular have had a big impact. The first Waiting for the Barbarians, is a parable about the use of falsely imagined enemies for social control; The Life and Times of Michael K is set in a dystopian South Africa of the 1970s under civil war and his third masterwork, Disgrace, is about a university lecturer adjusting to the new South African political climate. Since Disgrace Coetzee's work has moved away from fiction to other forms – essays, opinion pieces and memoirs, or a mixture of all three in a fictional framework.