Resource Title
Do They Hear You When You Cry
Summary
The 17-year-old Fauziya Kassindja made headlines in 1996 when she was the first female to be granted asylum in the US on the grounds of her escaping Female Genital Mutilation (FGM), which set a precedent for gender-based claims for asylum. Fauziya had spent 16 months in a US jail after fleeing her home in the small West African country.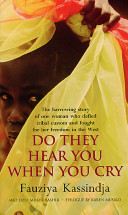 Resource Details
Author:

Fauziya Kassindja

Publisher:

Bantam

Country of Publication:

United Kingdom (UK)

Year:

1999

ISBN:

9780385319942

Page Count:

529
Description
In her story 'Do They Hear You When You Cry,' Kassindja documents her life in Togo and how she escaped to avoid FGM and an arranged marriage to a man almost three times her age. It is an absorbing expose  of the appalling immigration policies and practices in the United States.
Kassindja recalls how she found herself in trouble when her father, who opposed FGM, died suddenly. Her father's brother became her legal guardian and he sold Kassindja into marriage. She was offered to a 45-year-old man who already had three wives. Because of the man's tribal customs, he insisted that Kassindja, who was a virgin, undergo FGM before their wedding night. With the help of her sister, Kassindja fled to Germany before seeking political asylum in the US. However, Fauziya was too ashamed to give the intimate details of what she was running from to the immigration officer that she encountered as she entered the US. She only revealed part of her story – that she was escaping from a forced marriage to a man who already had three wives. As a result she was thrown into the detention system that locks up refugee claimants alongside convicted criminals. For Kassindja, salvation came only after a brutal battle with the US Immigration and Naturalization Service. Describing her traumatic time spent locked up, she writes: "I was now in my fourth prison. I had been beaten, tear gassed, kept in isolation until I nearly lost my mind, trussed up in chains like a dangerous animal, strip-searched repeatedly."
Kassindja tells her story with the help of Layli Miller Bashir, a law student who befriended her and helped negotiate her case. Bashir works as a lawyer and is the Director of the Tahirih Justice Centre, a US-based organisation with the aim of protecting women from human rights abuses through the provision of legal aid and public policy advocacy.
This book is a harrowing read but will educate you on what obstacles some women have to face in other parts of the world. At times Fauziya can even laugh at her own situation – which makes you admire her all the more. A decent read, it is disturbing but also gripping – you will find yourself completely involved.
FGM:  (also known as female circumcision) is one of the most political areas of women's health. Worldwide it is estimated that well over 100 million women have been subjected to it. UN figures from 2009 show that in some countries the rate remains very high. For example the UN says that a quarter of women in Ethiopia have been circumcised, 63% of women in Eritrea and in Mali it is 69%. Supporters of the practice say it is done for cultural and religious reasons, but opponents say it is potentially life-threatening and a severe form of oppression against women.